Native English Teacher (Floating / School-based / Full-time / Part-time)
The Hong Kong Council of Early Childhood Education and Services (known as CECES) is a non-profit organization that was founded in 1982. CECES has 39 years of professional experience in early childhood and youth education. We run education and training programs both at schools and in the community. Please visit us at http://www.hkceces.org for more information about our work.
We are currently looking for qualified and passionate professionals to join us in the following positions.
Native English Teacher (Floating / School-based / Full-time / Part-time)
(Application Deadline: 30 June 2021)
1-year school contract (1 Sep 2021 – 30 Jun 2022) or
2-year school contract (1 Sep 2021 – 30 Jun 2022 & 1 Sep 2022 – 30 Jun 2023)
Job Duties:
Conduct English classes for children aged 2 to 6 in local kindergartens;
Prepare lesson plans, materials, and evaluation reports;
Design follow-up activities for students;
Working Arrangement:
You will work for several Kindergartens in different districts in Hong Kong;
Monday to Friday 8:30am-5:30pm and occasionally Saturday 8:30am-1:00pm (depends on schedule arrangements and needs)
l   Assist in the development of curriculum materials;
l   Facilitate students' learning experience and encourage their participation in class activities.
l   Make lessons enjoyable and effective for students;
l   Follow work instructions from supervisors;
l   Depending on the type of position, you may be assigned to work private tutoring, online class, or after-school interest classes using CECES teaching materials.
Native English speaker;
University degree holder (Early Childhood Education, English, Linguistics, and Literature are preferable);
Familiar with Hong Kong's kindergarten education system;
Two years teaching experience (less than two years' experience will start at a junior level, Experience in Hong Kong local kindergarten is preferable);
Excellent class management skills, resourceful, flexible, and a good problem solver;
Experience in teaching Cambridge is a plus (Starter to Flyers);
Experience in teaching Trinity Exam is a plus
CELTA/ TESOL / TEFL / CE/ QKT qualification or equivalent;
Holder of a HKID or valid working visa. Employment visa sponsorship will be available for overseas candidates;
Ideal candidates enjoy working with children, are responsible and self-disciplined, and can commit to the contracted service.
Employment visa sponsorship;
Competitive salary;
Medical insurance;
Flight reimbursement (for overseas candidate);
Annual leave, compensation leave, paid sick leave;
Comprehensive & continuous training programs and personal development
A team-focused, dynamic, and lovely environment
Successful candidates are required to undergo a Sexual Conviction Record Check (SCRC) in Hong Kong
Interested candidates please submit the following to ecsum@ceces.com.hk to arrange an interview. All must be included to be considered.
Your Resume (not more than 1 page) with your expected salary.
An introductory video (1-2 mins to talk about yourself, your teaching style, etc.) - Will not considerate without video. This is necessary to help introduce you to schools.
Any working portfolio or reference.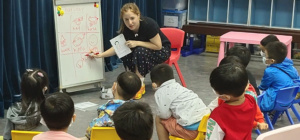 Early Childhood Education, ESL