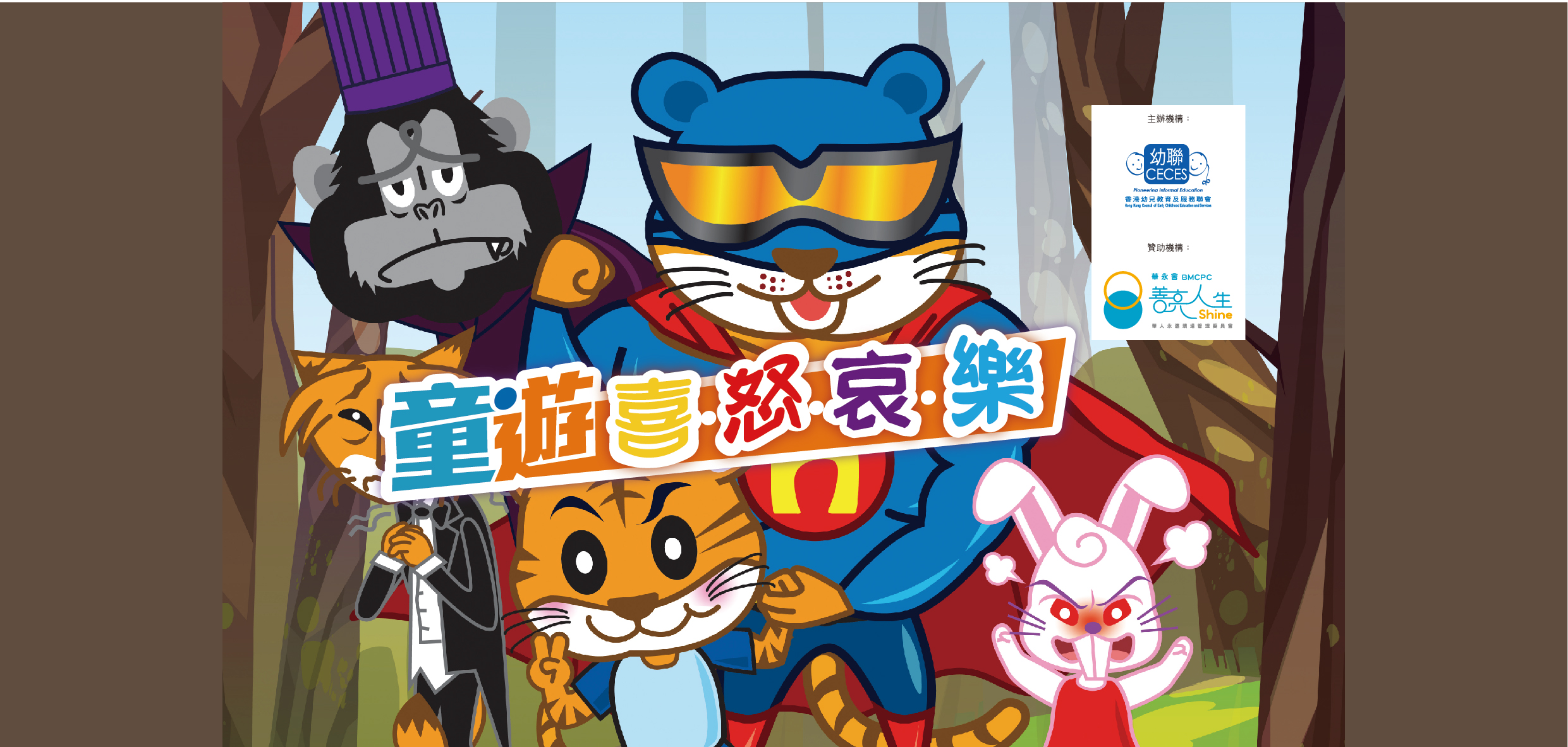 Project Name: 童遊喜‧怒‧哀‧樂 (Happiness, Anger, Sorrow, and Joy in Children)
Subvention by: The Board of Management of the Chinese Permanent Cemeteries
Objectives & Contents: This activity aims to discuss different emotions with children through storytelling and drama.  These activities will teach them how to express and handle these emotions when they encounter them. This workshop is useful for children to develop a positive and optimistic attitude toward life and parents will have the opportunity to learn more about their children's needs in handing emotion. A sharing session will be included in the workshop which seeks to improve children's presentation skills and the parent-child relationship.
Project Year: March – October 2021
Beneficiary: 30 Kindergartens
Now Accepting Enrollment
Parents and Teachers Joined
Project Name: Active and Healthy Life Style Program
Subvention by: Correctional Services Department Sports Association Charity Fund Subsidy Scheme
Project Year: 2017 – 2018
Serving: 40 Primary Schools (Shum Shui Po, Wong Tai Sin and Kwun Tong Districts)
Objectives: To introduce children to healthy habits for daily life especially the concepts of a balanced diet, exercise, and mental development.
Content:
Design and implement health based workshops;
Training of school health ambassadors as well as promotion and teaching of Thera-band and Kick boxing exercises;
Liaise workshop details and logistics arrangement with schools.
Project Name: Quality Management and Standards for Pre-Schools in Hong Kong – Establishing Hygiene, Health and Safety System
Subvention by: Quality Education Fund
Project Year: 2015-2016
Serving: 20 Kindergartens
Objectives:
Understand and appreciate Quality Management, Quality Systems, and standards applicable to Pre-schools in Hong Kong.
Provide information and guide schools in developing good practices for maintaining health and safety in their daily operation utilizing a systematic approach.
Adapt health and safety information for students' activities in schools.
Disseminate valuable experience and generate more interest and support for schools on improving their quality of services.
Project Name: Life and Death Education
Subvention by: The Board of Management of the Chinese Permanent Cemeteries
Project Year: 2016-2017
Objectives: This project aimed to introduce life and death education children in kindergartens through onsite workshops using interactive games. Participating parents were also given helpful hints on how to address these sensitive topics with their children. This project served over 1000 children.
Project Name: School-Based Program to Improve Sleeping Habits for Students with Inadequate Sleep
Subvention by: Health Care Promotion Fund
Implementation Period: August 2014 to July 2016
Serving: 30 Primary schools, Over 1,000 students
Objective: Promote the importance of sleep and improve sleeping habits of local primary school students.
Content: School recruitment and pre-questionnaire; Parents talk; students workshops and healthy sleeping ambassadors
Project Name: "Super Mama" – School-based Family Health Promotion Program
Subvention by: Health Care Promotion Fund
Project Years: 2008-2011 (Health Care and Promotion Fund), 2012-2015 (CECES)
Serving: 30 Primary Schools, 1,000 Mothers, 11,000 Students
Objective: This project aimed to promote general women's health through a mother-focused health training approach that promoted healthy eating and increased physical activities for local families with students in primary schools.
Content:
Providing healthy eating talk
Providing disease prevention talk
Introduce safe and simple Thera-band Exercise
Project Name: Apps for Kid's recipe
Subvention by: Health Care Promotion Fund
Implementation Period: April 2012 to September 2013
Serving: 30 Kindergartens
Objectives: This program aimed at assisting parents practice healthy eating habits in their family life by providing practical eating tips through our free smart phone apps.  Participants also attended a workshop in promoting healthy eating habits.